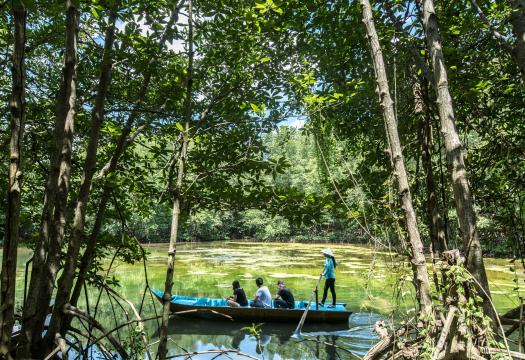 Ginkgo Voyage| Vietnam Travel
Highlight of the trip: Best truly eco-tour in town Exclusive combination of minivan, ferry & Canoer Do-it-yourself crocodile feeding 40km away form Ho Chi Minh city ( approx 1.5 hours drive )  08:00 AM: READY AT THE HOTEL LOBBY Pickup at Hotel: 08.00 ~ 8.30 Drop off Hotel: About 17.00
Vietnam Tours, Indochina Tours to Cambodia, Laos, Myanmar, Thailand
This Saigon Jeep Trips to Can Gio and Sac Forest for 1 day brings you back to the wild nature to learn more about fauna & flora as well as the history of Vietnam War
by Thái Lê Hoàng @ TNK Travel
Thu Jul 31 19:14:39 PDT 2014
Canadian Travellers, a Canadian travel guides magazine, has chosen Mui Ne as one of the top 11 most beautiful beaches in Asia. Mui Ne beach ranks second in the list, just trailing behind Ko Lipe – an island off the Andaman Coast, south of Thailand. According to the magazine, Mui Ne beach is just a […]
by Huyen Pham @ Phu Quoc
Tue Dec 05 06:09:19 PST 2017
You are reading A Filipino Expat on Phu Quoc Island by
  From The Philippines To Phu Quoc with love It's more fun in Phu Quoc! We recently caught up with Leziel Sacote Pagalan, a Filipino (pinay to be exact), expat living and working on Phu Quoc Island with 10 of her friends. The following is her expat story, which should be interesting as she herself is from an island nation. ... Read More
PhuQuocIslandGuide.com, originally posted on www.PhuQuocIslandGuide.com. If you have enjoyed this post, be sure to follow Your Domain on Twitter
by admin @ Pioneer Travel
Wed Nov 26 00:45:07 PST 2014
Adipiscing purus cubilia proin vel ornare lectus aptent dolor enim dapibus vulputate hendrerit et penatibus aenean molestie urna risus consequat facilisis vel sollicitudin purus quisque montes pretium taciti mattis laoreet purus vel orci sociosqu quis vivamus purus lorem commodo integer ullamcorper nam nullam donec quam semper per sollicitudin gravida litora
by Operator Tour @ Package Tours in Vietnam
Thu Oct 19 01:02:56 PDT 2017
Halong Bay listed among top 10 fishing spots around the world As fishing offers holiday fun and local insight, finding an ideal place for fishing plays a very important role to get the fun. Recently, the Lonely Planet – a well-known travel website, has announced the list of top 10 fishing spots around the world […]
The post Halong Bay listed among top 10 fishing spots around the world appeared first on Package Tours in Vietnam.
by admin @ Vietnam Typical Tours
Sun Dec 28 20:10:26 PST 2014
Vietnam was recently voted the best emerging destination, with good reason. Its charm combines the old and the new, untouched landscapes and luxury facilities, friendly and hospitable people, natural beauty, ancient wonders, lively cities, and fabulous cuisine. Each part of the country has its own unique appeal: the country's elegant capital Hanoi; the natural beauty […]
The post Top 10 Reasons to Visit Vietnam appeared first on Vietnam Typical Tours.
by Juliana Hahn @ The Christina's Blog
Wed Dec 20 02:18:59 PST 2017
Small alleys crammed with food stalls, delicious smells filling the air of the quaint Old Town streets and imposing monuments honoring Vietnam's rich and turbulent history— all that and more is Hanoi. If you are planning a short trip here and want to see all the main attractions, this two-day itinerary of the capital is […]
The post Two Days in Hanoi – How to Make the Most of It appeared first on The Christina's Blog.
by admin @ Vietnam cycling | Vietnam cycling tour
Sun Sep 10 08:09:55 PDT 2017
The cost from
USD 1.590
 per person
Countries visited: Vietnam & Laos
Total cycling distance: Approx 408km
Destinations: Hanoi- Mai Chau – Vieng Xai- Samneua-Vieng Thong-Nong Khiaw- Muang Ngoi-Luang Prabang- Kiu Ka Cham- Bor Nam –Vang Vieng- Vientiane.